Extra Curricular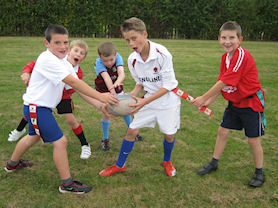 Lots of fun in Rugby Club.
Extra-curricular activities form an important part of our day to day life at Bidford on Avon Primary school. Clubs provided by our teachers and outside agencies help enrich their experience and encourage new skills and aptitudes.
A variety of after school clubs are offered each term and include things like art, cheerleading, rugby, football, netball, craft, drama, science and forest school. Children also take part in dinner time activities and run their own clubs. Participation in clubs can be used to gain credits for awards from the Children's University.
In Year 5 children can go on a residential trip to a PGL activity centre. We also offer a diverse program of road safety education programs, including cycling proficiency, kerb safe.
A range of enrichment activities are also organized within the school day, including performances by outside drama groups, musicians, artists or dancers and our work with the sports partnership which has provided opportunities to take part in rowing, golf, multi-skills.
Each term the newsletter informs parents and children about the clubs on offer The clubs are always very popular with the children and enjoyed by all.
Football Clubs
We currently run Arsenal soccer school, girl's football club and upper KS2 football club. Football clubs provide opportunities for pupil's to develop their skills and take part in matches.
Girls Football
Girls football is held weekly, after school and caters for girls from Year 3- Year 6. Girls take part in skills development, rule learning and learn to play in different positions in matches.
| | | |
| --- | --- | --- |
| Upper Junior Football. | | Girls' Football. |
Tag Rugby
Tag Rugby develops children's confidence on the rugby field and is a good introduction to the game.
Netball Club
Netball develops pupils skills in ball control and team work and provides opportunities to take part in matches.
Cheerleading
We have a set of professional pompoms kindly purchased for us by the NFU, which children use to learn cheerleading routines – a really exciting and invigorating club.
Performance Club
We organise several productions over the year using drama and music. Performance club helps develop pupil's talents and skills on stage, developing confidence and self esteem.
| | | |
| --- | --- | --- |
| Cheerleading Club. | | Performance Club. |
Science Club
Science Club is run by sixth formers from Alcester Grammar School who organise a range of exciting practical experiments for pupils to investigate.
Children's University
Extra Curricular activities are accredited through the Children's University for Key Stage 2 and Kids College for Key Stage 1. Children receive certificates and have the opportunity to work towards Bronze, Silver and Gold awards.
Kerb Safe
Each year pupils in Year 1 follow a structured programme that increases awareness of their environment. It encourages them to think before doing anything and increases their knowledge of road safety.
Cookery Club
Our school cookery club started in January 2010. It is a five week course offered to groups of Key Stage 2 children.
The Club aims to broaden understanding of basic food preparation and general cooking skills in a relaxed and creative setting.
You can see some recipes from the Cookery Club on our School Meals page.
We are grateful to our local Warner Budgens store for providing us with almost all of our ingredients. In preparation for our cooking sessions, our club members visit the store to select the ingredients, making choices about cost, the environment, local produce and sustainability as well as fairtrade.
| | | |
| --- | --- | --- |
| Budding Chefs in Cookery Club. | | Cooking Club Summer 2012. |